Home



Our Loft
Quilts, Gifts, Decorating, Restin' & Relaxin', Pampering


Craftin' Room
Crafts for the
Kid in all of us
Special Occasions Kids Fun Stuff



Heart of our Home
Recipes, Crafts, Cookbooks, Tips,


Readin' Room
Craft Books, Antiques and Collectibles, Gardening and more


From the Porch
Gardening
Helpful Tips
Products


Helpful & Handy Tips
Kitchen, Outside Help, Individual Items



Special Occasions
Crafts & Gifts



About Us Folks

E-Mail

Links





























































Culinary Herbs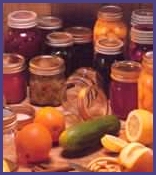 ---
Contact Info

Comfy Country Creations
P.O. Box 10181,
Airdrie, Alberta
T4A 0H5

Phone: 403-912-2645
Fax: 403-912-0543

Fall. The lazy days of summer have passed. In the "olden days" as with modern times, grain, hay crops and the rest of the garden fruits and vegetables need to be harvested. Along with these tasks, finishing quilts, starting back to school and hunting for wild game and birds are still a big part of our modern lives. It is a hectic time. Everyone wants to be ready for whatever Mother Nature is going to send us next - winter. The Harvest Moon Ball was and still is a good reason to get together with friends and neighbors. Our grandparents would take something to put on the long rows of tables set up for the mid-night lunch. There would be samplings from the garden, the smokehouse, berry patch and fresh baked goods. Comfy Country Creations would like you to enjoy sampling the harvest.

---




Quick Jump to Recipes in this Section


Rose Hip Jam | Swiss Chard Relish | Momís Yellow Bean Relish | Green Tomato Mincemeat | Crabapple liqueur | Cranberry Liqueur | Apricot Liqueur | Two Day Orange Marmalade | Scalloped Tomatoes |



---





Two Day Orange Marmalade




6 medium oranges
3 medium lemons
3 cups water


Day One
Peel fruit very thin. It is best if you can have peel with no white pith attached. Store peel in a plastic bag and set aside. Slice fruit into a saucepan and add water. Boil gently for two hours. Drain in a jelly bag overnight.

Day Two
Cut peel into long, thin strips and place in saucepan with 2 1/4 cups of water. Boil approximately 15 minutes until soft. Stir occasionally. Drain and measure off 2 cups of juice. It's OK to add a bit more water if need be to make 2 cups. Add to juice from jelly bag. Add peel. You need to measure the juice as you will add 1 cup of sugar for each cup of juice.

Bring to a boil on med-high heat - stirring constantly. Boil rapidly stirring 2 or 3 times until a bit will jell on a chilled saucer. This takes approximately 25 minutes.

Pour into hot, sterilized jars. Place hot sterilized lids on jars and secure. Makes three half pints plus a small jar to use right away.


Back to Main Menu





---





Rose Hip Jam


Rose Hips- Lots
Wash rose hips quickly in warm water. Cover with water and boil until soft (about 1 Ĺ hours) ~adding water to keep berries covered. Put through a sieve to remove seeds. Measure pulp.
Add 2/3 cup sugar for each cup of pulp and one package of certo for each 4 cups of pulp. Bring to a hard boil and continue boiling for one minute.
Place in small-sterilized jars.


Back to Main Menu





---





Swiss Chard Relish




2 lbs (4 cups) Swiss chard stalks only
1 lb (2 cups) onions
1 lb (2 cups) celery
1/2 lb (1 cup) red peppers
2 cups vinegar
2 cups sugar
1 tsp dry mustard
1/2 tsp turmeric
1/2 tsp curry powder
1/4 cup corn starch
1/4 cup salt


Finely chop vegetables, mix together and set aside. Bring to a boil vinegar, sugar, mustard, turmeric and curry powder. Remove ĺ cup of liquid and mix with cornstarch. Set aside. Add salt & vegetables to remaining liquid and simmer until tender stirring often. Add corn starch mixture and stir continually until thick.
Place in prepared jars and seal.


Back to Main Menu





---





Momís Yellow Bean Relish




20 cups yellow beans ~ cut into 1" lengths
3 cups sugar
1/2 cup dry mustard
1 Tbsp celery seed
1 tsp turmeric
3 cups white vinegar
1/2 cup flour


Boil beans in salted water until tender. Drain. ~ set aside Mix 1 cup vinegar and Ĺ cup flour into a paste ~ set aside. Bring all other ingredients to a boil. Add vinegar flour mixture slowly. Bring to a slow boil until thick. Pour over beans. Make sure they are all covered well. Seal in glass jars. Tastes great with any kind of meat. In sandwiches or as a side dish.
Thanks to Eileen Edall - 100 Mile House, B C for sharing this recipe.


Back to Main Menu





---





Green Tomato Mincemeat




10 cups chopped green tomatoes ~ about 2 Ĺ lbs
Water to cover
5 cups apples ~ peeled, cored and chopped
2 cups ground suet
2 cups raisins
1 cup currants
1 cup cut up mixed peel
3 cups granulated sugar
3 cups packed brown sugar
1 Tbsp cinnamon
1 Tbsp nutmeg
1 tsp ground cloves
1 tsp ground allspice
1 tsp table salt
1/2 cup white vinegar


Combine tomatoes and water in a large pot. Bring to a boil. Stir often. Boil gently for 30 minutes. Drain Add next seven ingredients and bring to a boil. Boil gently until thick ~ about 2 hours. Stir frequently. Stir in remaining six ingredients. Pour into prepared jars. Process in a boiling water bath for 20 minutes.
NOTE
This recipe can also be cooled and frozen or stored for months in the fridge.


Back to Main Menu





---





Crabapple Liqueur




4 quarts crabapples cut in half
4 cups sugar
26 oz vodka


Fill 4 quart container ĺ full with crabapples. Pour sugar over top. Add vodka. Add remaining crabapples. Put lid on. Let stand on counter or in cupboard. Turn jar upside down then right side up once a day for one week. Let stand one month. Strain through a sieve. Discard apples. Strain liqueur through four layers of cheesecloth. Makes approximately 6 cups.
Can be halved or quartered.



---





Cranberry Liqueur




4 cups cranberries - fresh or frozen - coarsely chopped
3 cups sugar
2 cups gin
1 tsp vanilla


Combine all ingredients together in a jar. Put lid on. Let stand at room temperature for 6 weeks. Strain twice through four layers of cheesecloth. Makes approximately 3 1/3 cups.
Can be halved or quartered.


Back to Main Menu





---





Apricot Liqueur




1 lb dried apricots - quartered
4 1/3 cups vodka
4 cups sugar


Combine all 3 ingredients in a glass container with lid. Let stand 6 to 8 weeks. Shake jar lightly once a week. Strain through double cheesecloth. Discard apricots. Makes approximately 5 cups.
NOTE: Serve as a beverage or over ice cream or custard. Make at least two months ahead. Store on the shelf in an airtight container. Recipe can be halved or quartered.


Back to Main Menu





---

Please visit other related categories

Recipes | Kitchen Tips | Creative Table Centerpieces

---




These recipes are for the purpose of sharing only and not for purposes of reselling.
Please send your favorite Harvest Time recipes to Comfy Country Creations.